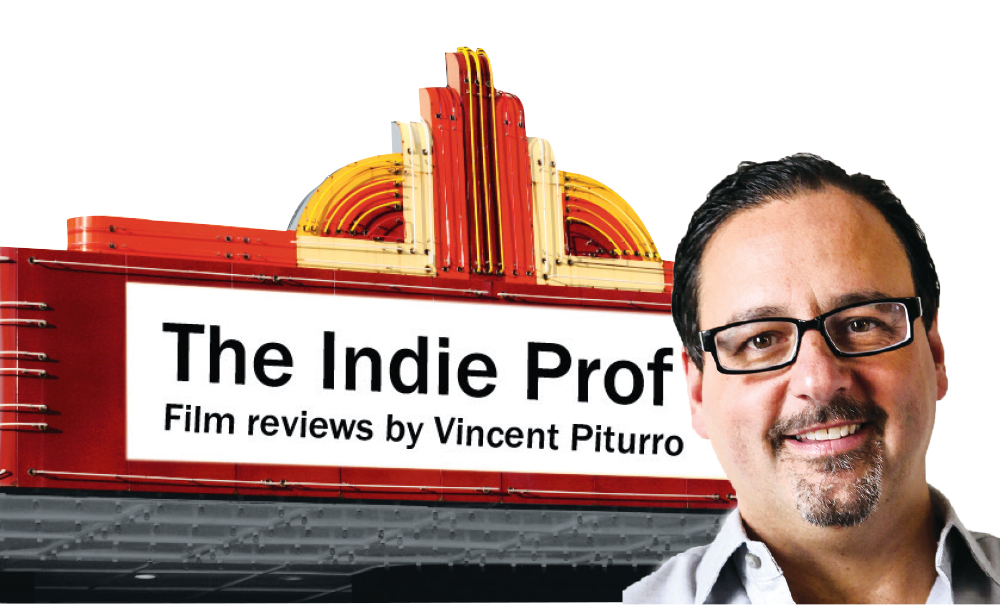 In lieu of the normal reviews this month, I preview five documentary films—three features and two shorts—that we will screen on four Friday nights in October at The Cube in Northfield. The address is 8371 E Northfield Blvd, Denver, CO 80238 and you can buy tickets at StapletonCommunity.com > Event Calendar. All shows start at 7pm. Even if you can't make it in person, check out these wonderful films on your own!
Chasing Ice (2012) on 10/4
This fascinating film from director Jeff Orlowski tells the story of James Balog and his Extreme Ice Survey (EIS). Balog documented the alarming rate of glacier-melt in the Arctic over the course of several years in Alaska and Greenland, using time-lapse photography to chart the degradation. The stunning images literally show the glaciers melting right before our eyes; in one remarkable sequence, we see a glacier calving off a chunk bigger than the island of Manhattan. It's hard to believe anyone could be a climate denier after seeing this powerful film. Balog, a National Geographic photographer, is a Boulder resident who has been doing environmental work since the 80s. Chasing Ice was produced here in Colorado, and if you've traveled through DIA, you have probably seen some of the EIS videos in monitors throughout the airport. I will be joined for a post-film discussion by Dr. Keah Schuenemann, a climate scientist from MSU Denver. Suitable for children of all ages. Available on National Geographic TV and on VOD.
The Cove (2009) on 10/11
The winner of the 2010 Oscar for Best Documentary Feature Film, The Cove tells the story of an annual dolphin slaughter in Taiji, Japan. Each year, the Taiji dolphin drive hunt corrals thousands of dolphins into a small bay in Taiji, where they are either killed or captured and then sold to dophinariums around the world. The Japanese government allows for such mass killing of crustaceans, and they have resisted calls to stop the practice for years—even after the public outcry in the aftermath of the film. Yes, it is a difficult and heart wrenching story, but it is also a phenomenal film. Arranging itself as a thriller/chase film, we follow activist Ric O'Barry (former star/dolphin trainer of the hit TV show "Flipper") and a crack team of specialists as they mount a clandestine plot to film the events inside the fortified cove. Directed by Boulder resident Louie Psihoyos, the film keeps you on the edge of your seat right up to the shocking brutality of the slaughter. It is difficult to watch, but it is extremely important and well-made. Not suitable for children. Available on VOD.
"Saving Face" (2012) on 10/18
This fearless film won the Oscar for Best Documentary Short in 2013. Co-directed by former Denverite Daniel Junge and edited in Denver, it tells the story of several women who were victims of acid-throwing incidents in Pakistan. England resident and plastic surgeon Dr. Mohammad Jawad returns to his native Pakistan to perform surgeries on the women, who at the same time are fighting for justice in the Pakistani Parliament. Such acts, if done by a husband, had not been previously considered a crime. We get to see the resolution of both personal and political issues in this wonderful and touching short. Suitable for ages 16+. Available on HBO.
"Open Heart" (2013) on 10/18
Nominated for a 2014 Oscar for Best Documentary Short, director Kief Davidson tells the story of the miraculous Salam Center in Sudan, the only sub-Saharan hospital to perform life-saving heart surgeries on at-risk children. The kids come from all over Africa, most from penniless families, and leave everything behind to make the journey, have the surgery, and live in the hospital as they recuperate. The hospital is an unlikely non-profit run by an Italian NGO and partially funded by then-dictator Omar al-Bashir (who makes an appearance in the film). The stories are heartbreaking—intermittently sad and happy—but the story behind the story is just as fascinating. The power of film is tangible here, as this one actually saved hundreds of lives. Come find out how. Suitable for ages 16+. Available online.
The Weight of Water (2018) on 10/25
Finally, we can breathe. Well, sort of. After all of the heaviness, we end the series on an upbeat note with the story of Golden resident Eric Weihenmayer, the first blind person to climb Mt. Everest. But that's not the focus of this film; here, we follow Weihenmayer as he kayaks the treacherous waters of the Grand Canyon. The funny, engaging, and sometimes tense film tells Weihenmayer's life story as he trains and then attempts the trip. Weihenmayer is an enigmatic and endearing character whom I had the pleasure to meet and present with at the Denver Film Festival last year. He would have joined us except that he will be climbing in Nepal. Did I mention he is blind? Suitable for all ages. Available on VOD.
Vincent Piturro, PhD, is a Professor of Film and Media Studies at Metropolitan State University of Denver. He can be reached at vpiturro@msudenver.edu. And you can follow "Indie Prof" on Facebook and @VincentPiturro on Twitter.