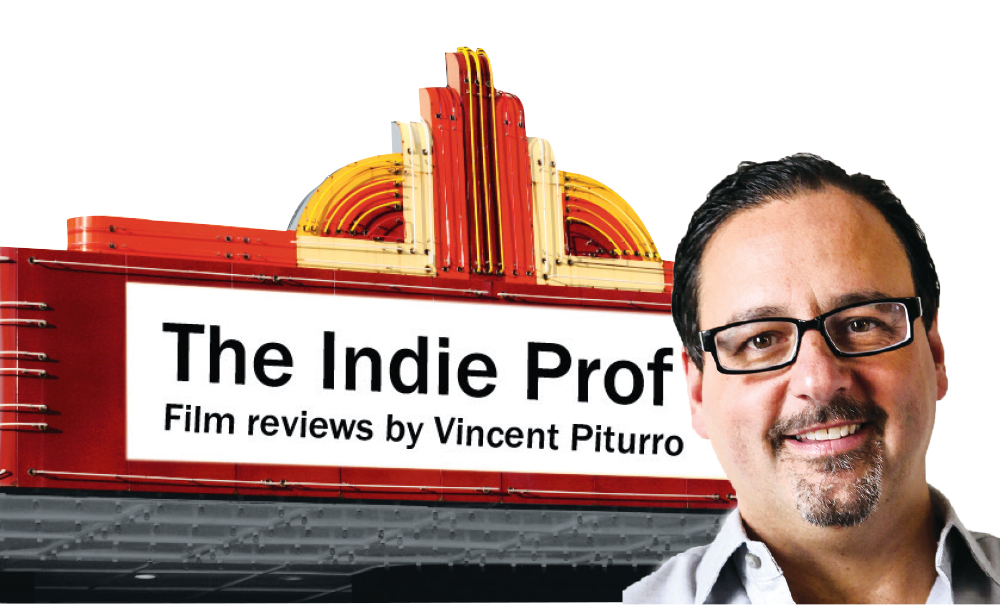 This month, the Indie Prof reviews Best Picture nominations for the Oscars. Follow "Indie Prof" on Facebook for updates about film events and more reviews.
As the Oscars approaches on February 9, the usual controversies abound. If you've read these pages, you are aware of my misgivings about the proceedings and how the Academy handles itself. I won't repeat them here, but please review past columns for more details. Still, we can take away some positives and celebrate this wonderful art form even as more and more films move to online platforms. So if I can say one thing, it is please go to the movies! It was a good year.
1917
This is my pick for best film of the year. The WWI story of two British soldiers trying to reach the front lines to call off a suicide attack is riveting, groundbreaking, original, tense, innovative, and edge-of-your-seat, can't-take-your-eyes-off-of-it cinema that is also relentless and technically brilliant. The cinematic premise is a film done all in one take (with a few, small cuts that are barely noticeable) as we follow soldiers through the trenches, across open fields with German airplanes circling above, through a burning town guarded by Germans, to the front lines (and even over a waterfall!). Think Birdman in the middle of a war.
The Irishman
See my full review (Indie Prof: The Irishman) in the 1/20 edition but suffice to say that Martin Scorsese's epic could go home with a trove of awards unless there is Netflix backlash. My pick for Best Director, and it wins Best Picture if 1917 is just too much of a fine point for voters.
Once Upon a Time in Hollywood
Quentin Tarantino's ode to Hollywood is set in the waning days of a fading era in Tinseltown, circa 1969. Leonardo DiCaprio is perfect as an aging TV/cowboy/action star and Brad Pitt melts into his role as the sidekick/stunt man/errand boy while they drive their way through L.A. in the last days of the Golden Era. This is Tarantino at his best: writing that crackles, performances that pitch just the right way, dynamic camera and editing, and a punctuation of violence that surprises since it comes much later than we expect from him. It has the potential for any award, and the potential for a sweep may be in the cards. The award for Best Original Screenplay seems likely, and Pitt will win the Supporting Actor Award.
Joker
This extremely disturbing realistic version of the comic-book story is even more troubling because we have seen this character before, in several iterations, yet never like this. Here, we don't get "Boom!" or "Pow!" above the players; rather, there is blood sprayed, brains splattered, and heads bashed. This is Taxi Driver set in a modern-day Gotham with contemporary allegorical issues. The vigilante violence of the film was controversial, the messaging can be unseemly, and while those aspects may scare some way, Joaquin Phoenix as the titular character is so eye-poppingly good that it makes the film a must see. He should win the award for Best Actor. I would argue that Director Todd Phillips doesn't belong in the Best Director Category, however. Leaving out Greta Gerwig while including Phillips is a shortcut to real review.
Little Women
The Greta Gerwig snub from the Best Director category shouldn't detract from what is an expertly crafted and overall superb telling of a well-known story. The Louisa May Alcott novel from the post-Civil War era has been made into a film several times, and Gerwig's adaptation updates it wonderfully, with spirited performances (including the lead Saorise Ronan, who is my favorite for Best Actress) and an elliptical structure that serves the story and is perfectly expressive. The Best Director category should mean mastery over every aspect of the film, not just a singular performance. Gerwig is a master.
Parasite
This gem from one of the world's best directors, Bong Joon-Ho (Mother, Snowpiercer), is a psychological comedic thriller punctuated by moments of horror violence. It is a cross between Hitchcock and Tarantino with the Scorsese deft hand at timing and audience reaction in mind. Bong is a master craftsman and brilliant writer as well, and every aspect of his acumen shines through here. If Roma did not prevail in a weak category last year, then this film's prospects are dim. My guess is that many Academy voters are scared away by the subtitles. Still a no-brainer for Best International Film.
Ford v Ferrari
Hard to see the logic with this nomination, especially considering such excellent films as The Lighthouse and Hustlers were ignored. It's an adrenaline-filled rush with solid performances, and it may be worth the price of admission. That's about it.
Finally, there was one film I did not yet screen, so I enlisted the help of an aspiring film critic and writer who is worth the read:
Jojo Rabbit
By: Michael Sorentino
It takes finesse and sensitivity to tell a charming coming-of-age story set in the waning years of Nazi Germany. Taika Waititi has proved he is more than qualified by adding this to his ever-growing eclectic filmography. Roman Griffin Davis stars as the 10-year-old title character who has bought into the propaganda so deeply that his imaginary friend is Adolf Hitler, played by Waititi himself. Jojo's beliefs get challenged when he finds out his mother (Scarlett Johannson), does not subscribe to the same ideology and has been hiding a young Jewish girl in their home. Jojo Rabbit brilliantly ridicules the purpose of fanaticism and the indoctrination of children, as we watch Jojo experience new feelings of humanity and empathy in one of the best films of the year.
Two local screenings of note this month that I will introduce and discuss:
The documentary Amy at 2pm Sunday, February 16 at Sam Gary Library.
Wall-E at 6pm Friday, February 28 at The Cube in Northfield.
Vincent Piturro, Ph.D., is a Professor of Film and Media Studies at Metropolitan State University of Denver. He can be reached at vpiturro@msudenver.edu. And you can follow "Indie Prof" on Facebook and @VincentPiturro onTwitter.